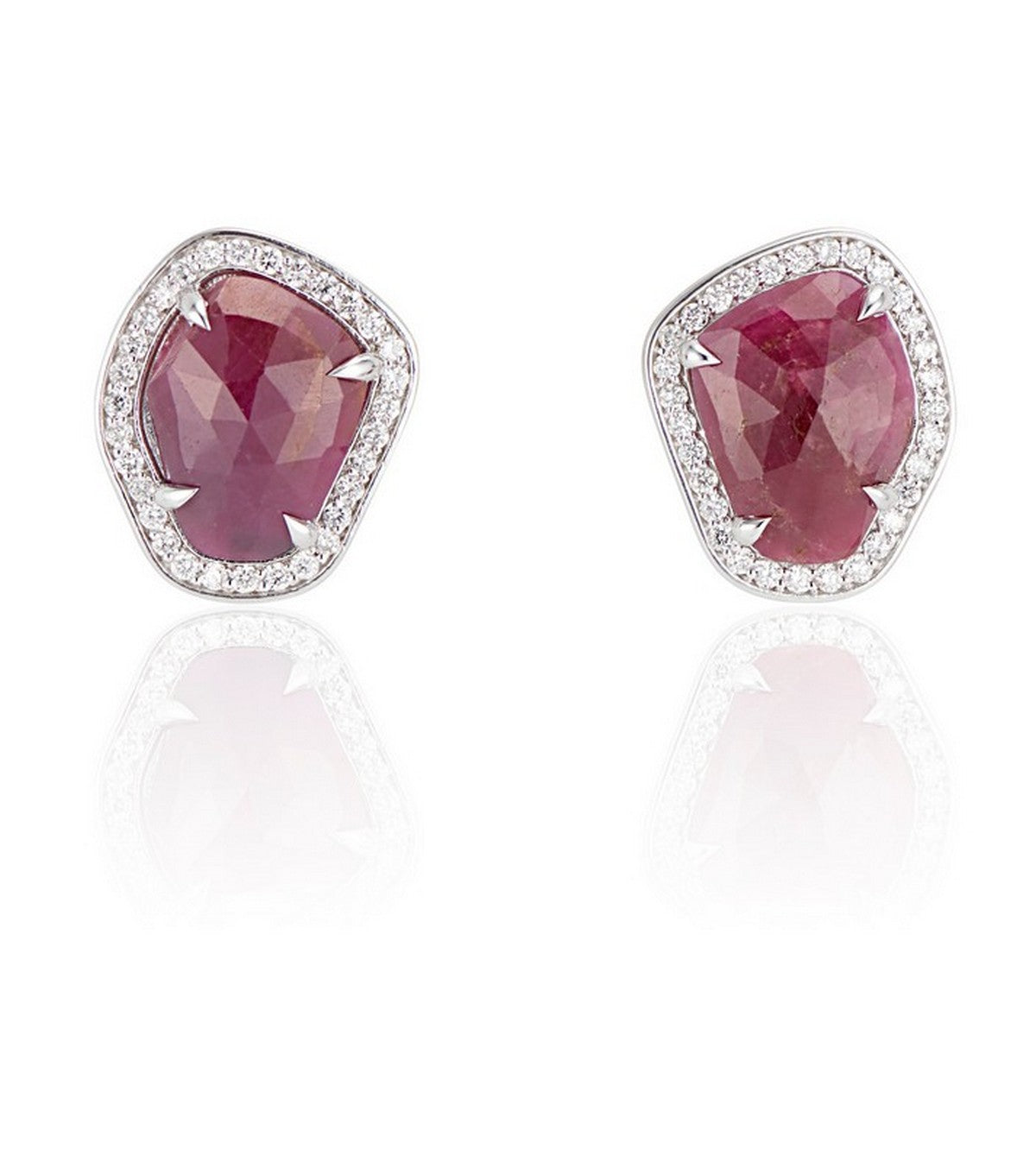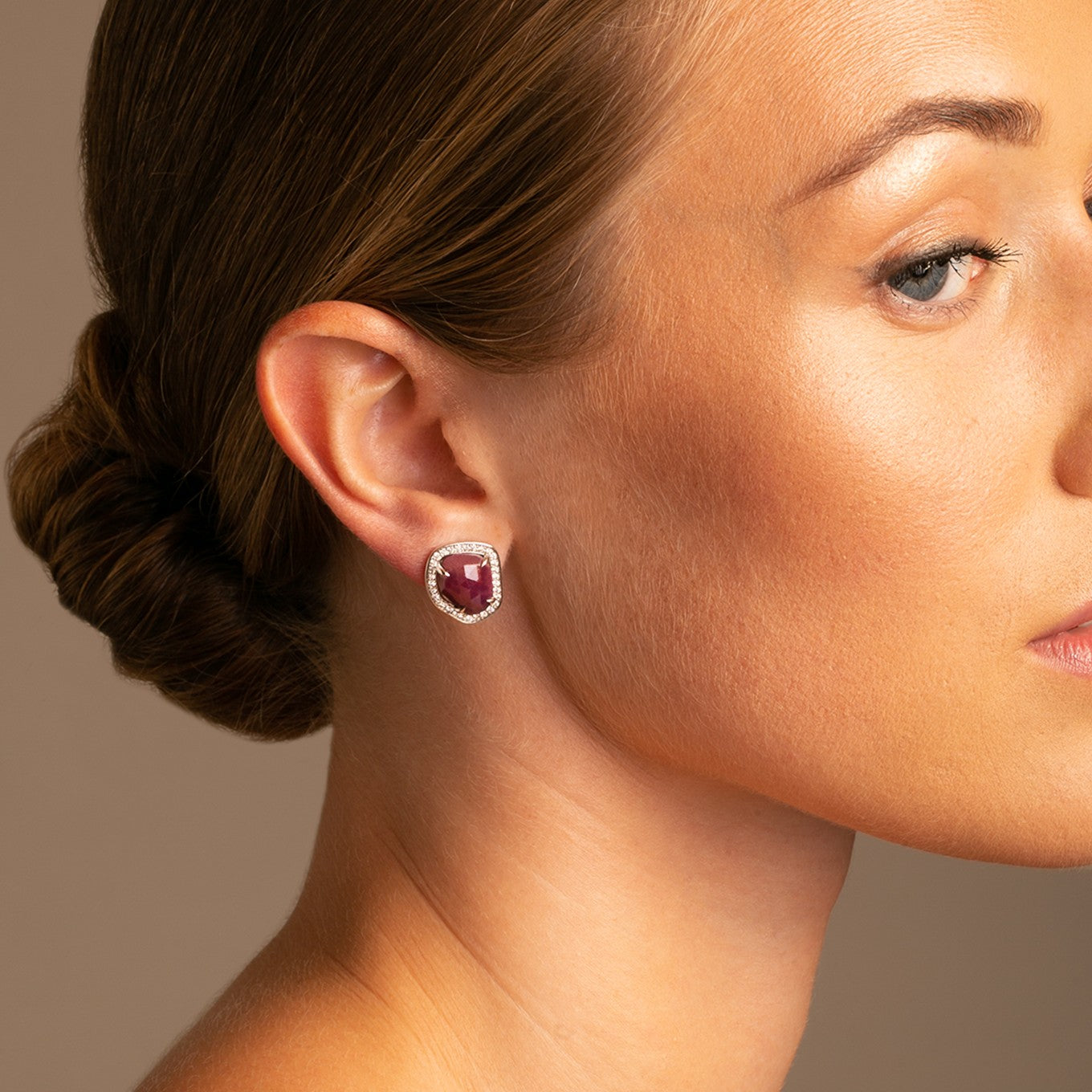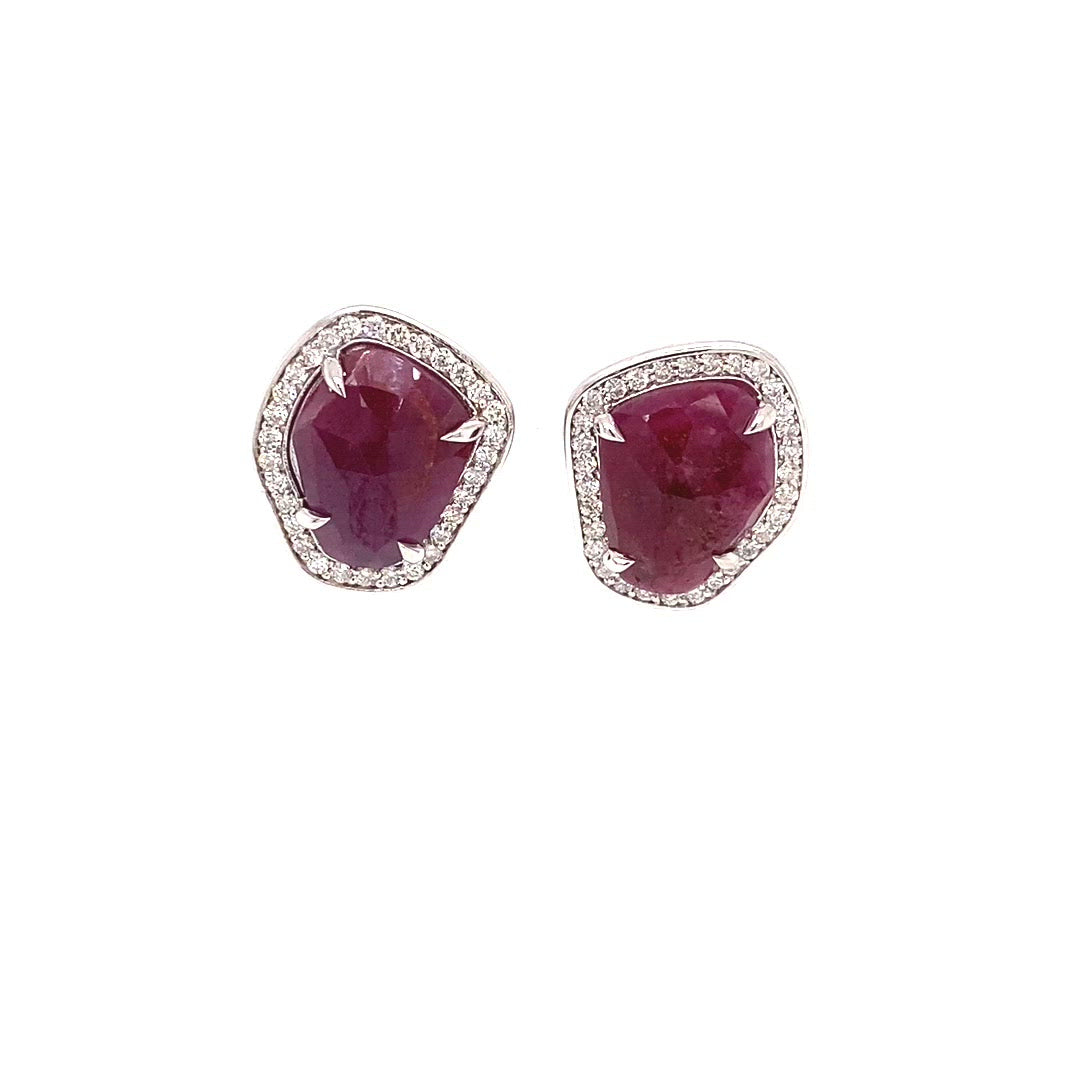 18K White Gold Rich Red Slice Diamond Stud Earrings
Metal Type:
18K White Gold
Pave Stones:
White Diamond
Our 18K White Gold Rich Red Ruby Slice Diamond Stud Earrings are the embodiment of understated luxury and eternal elegance.
These exquisite earrings blend luxurious materials with a classic design, creating a stunning accessory that transcends fleeting trends.
At the heart of each earring lies a rich red natural ruby slice, hand-selected for its rich color and captivating allure. These enchanting gemstones, steeped in history and symbolic of passion and love, radiate an arresting depth of red hues, leaving a lasting impression of warmth and sophistication.
The alluring ruby slices are skillfully set within a lustrous 18-karat white gold frame, the coolness of the metal harmoniously contrasting with the seductive tones of the gemstones. Encircling the rubies, a halo of brilliant-cut diamonds emanates a scintillating sparkle, further enhancing the earrings' irresistible charm. The diamonds, weighing a total of 0.62 carats, are chosen for their exceptional cut, color, and clarity, ensuring a radiant display of brilliance and fire.
A natural ruby slice is a piece of a ruby that has been sliced and polished to reveal its inner beauty and natural characteristics. Ruby is a type of mineral that belongs to the corundum family, and it is one of the four precious gemstones, along with diamond, sapphire, and emerald.
Designed as elegant stud earrings, these timeless pieces sit gracefully on the earlobe, secured by a comfortable and reliable butterfly clasp. The versatile and classic design guarantees that they can be worn with confidence, making them an ideal accessory for any occasion, from a formal event to everyday wear.
Designed and made  in New York by our team of master jewelers.
Free Worldwide Shipping 
14 Day Return Policy
Detailed Information
Natural gemstones are each unique, paired and cut by our skilled gemologists.

Pave: 62 colorless 1.25 mm white diamonds
Diamond Pave tcw: .62ct
Ruby tcw: 10 ct
Fitting: Post with Friction Back
Length: .5 inches
Metal Stamp: 18k
Metal Type: Gold
Main Gemstone: Natural Sapphire Slices
Responsibly Sourced
From our beginnings in 2006, we dedicated ourselves to the use of only responsibly sourced precious materials in our jewelry.
The Thomas Laine Experience